"I have had dogs for many years — 44 to be exact. I have been to trainers and paid them 100's of dollars to train me to take care of my dog. Never did they mention that collars can be dangerous. I see it clearly now. What can I say: you must pay to become educated. Why Millie had to pay with her life is beyond me. I had been told about the break-away collar by my vet the morning that I took Millie and Shadow to his office to find out what happened. Millie was dead and Shadow's lower jaw and throat were edematous. I wish he would have told me two weeks sooner. I wish I wish…"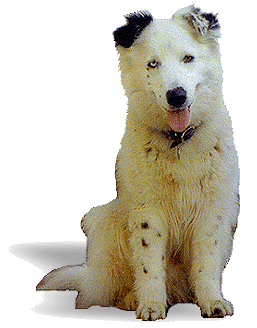 Chinook pictured with the collar that took his life. Through his death we hope other dogs may live.
The risks of tragic collar strangulation accidents and injuries are real.
The KeepSafe Break-Away Collar provides 24/7 protection from collar strangulation accidents.