In honor of Daisy – My deaf Catahoula, Annie, was in the back yard with Daisy, her hearing ear dog. When my husband went out to see why they weren't coming in, he found them tangled. Annie's jaw was stuck under Daisy's collar. They panicked and apparently gator-rolled. We got them untangled and did CPR, but it was too late. Daisy was strangled to death. I did some investigating and was shocked at how many dogs die, due to collar strangulation. A lot were like Daisy and Annie, but others were caught on fences, crates, bushes, etc. They struggled so hard that Daisy's metal name tag was bent. Be aware of your dog collars. I highly recommend breakaway collars. Annie now wears one with her deaf dog tags attached. It has "broken" numerous times. I hate to imagine what could've happened each of the times it broke away.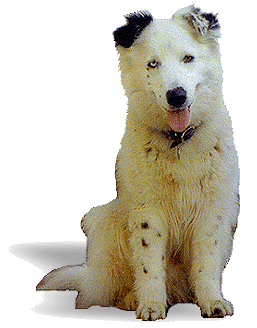 Chinook pictured with the collar that took his life. Through his death we hope other dogs may live.
The risks of tragic collar strangulation accidents and injuries are real.
The KeepSafe Break-Away Collar provides 24/7 protection from collar strangulation accidents.