(Taken from the Sumner County Times, Florida) A Sumner County, Florida couple lost their beloved champion Anatolian Shepard, Khara, in what we might think of as a freak accident. While playing outside, Khara's collar got caught and horribly twisted in their one-year-old puppy's teeth and jaw. As Khara's owner tried to free them, the couple heard the gurgles of her last breath. It is a nightmare they relive daily and that will haunt them forever. The stories they heard made them realize this was not a freak accident. "If we had known about the dangers of collars, Khara would still be with us today."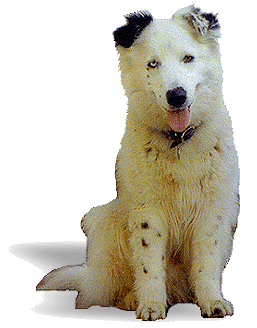 Chinook pictured with the collar that took his life. Through his death we hope other dogs may live.
The risks of tragic collar strangulation accidents and injuries are real.
The KeepSafe Break-Away Collar provides 24/7 protection from collar strangulation accidents.