"Years ago, I had two labs. One about 1 year old and 90+ lbs. The other about 4 mos. old & about 30 lbs. The bigger dog's lower jaw got twisted in the younger dog's collar while they were playing, twisting the collar tight on the younger dog. The older dog began making terrible noises. To my horror, the younger dog was passed out, his eyes rolled back in his head. I couldn't get the collar untwisted nor opened up. I picked up and carried 120 lbs. of dogs into my house to get scissors to cut the collars off. When I dropped the two dogs on the floor, it loosened the collars, and the younger dog came free!! Now that I have found these wonderful breakaway collars, they are on all my dogs and on many of my friends' dogs. Thank you to the Chinook Co. for saving some K9 lives!"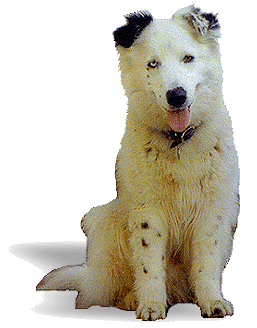 Chinook pictured with the collar that took his life. Through his death we hope other dogs may live.
The risks of tragic collar strangulation accidents and injuries are real.
The KeepSafe Break-Away Collar provides 24/7 protection from collar strangulation accidents.